Welcome to the Greenville Wiki!
The Greenville Wiki is a community-run wiki concerning the Roblox Greenville game, created and curated by players. Inside you can find all types of information about the game, such as vehicles, gamepass, buildings, housing and more!





What is Greenville?
Greenville is a town and city roleplay game based on the suburban area of Greenville, Wisconsin. Explore the map by driving around in all sorts of vehicles! In addition, you could roleplay as a worker in one of the many professions available in the game. With suburban housing, plenty of businesses, jobs, vehicles ranging from the rustbucket to the sports car, and scenery that reminds you of what life is outside of the city, the roleplaying possibilities are endless.
Wiki Staff
Contact us if you need assistance with anything!

Other wiki links
Rules | Attribution Guide | Game Changelog | Wiki Updates | Edit Milestones
Current Game Version: 1.18.5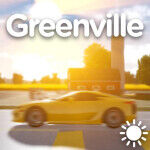 Discord Links (13+)
Official Game Discord
Other Links
Greenville Revamp Trello
Game Links
Beta | Beta V2 | Beta V3 (Initial | Mid-Release | Final ) | Full Release
Statistics
As of right now:
883 pages have been created
4,429 files have been uploaded
27,526 edits have been made